Beamy ™ Sound Flashing - € 19.99
Regular price
€34,99 EUR
Sale price
€20,99 EUR
Unit price
per
🎁 Livraison offerte
 Caractéristiques techniques

- Batterie Bloc optique 500mAh

- Temps de charge : 2H (avec témoin de charge)

- Boitier de commande : Pile CR2032 environ 200 jours d'autonomie

- Temps d'utilisation : 4 à 5 heures en continu

- Résistant à l'eau : certification IP2x

- Système lumineux à LED visible jusqu'à 100 mètres
Inclus dans la boite

- 1 bloc optique LED (= le clignotant)

- 1 boitier de commande sans fil

- 1 attache bloc optique LED

- 1 attache boitier de commande sans fil

- 1 câble de recharge micro USB
Video of the installation and use of the turn signal
🥇 The best of bicycle indicators

Inspired by Tilty wireless bicycle turn signal™ which received a rating of 4.7 / 5 on over 2,500 orders, the Beamy flashing has integrated new features that make it even more efficient:
32 high brightness LEDs to make it even more visible,
Activation signal on the remote control visible in broad daylight,
Audible signal allowing you to know that the indicator is working on the back of the bike,
Vertically adjustable for a better angle on the support: saddle, helmet, luggage rack.

Its powerful brightness, ease of installation and competitive price make itthe essential flashing light to equip your bike in 2021!
Installation of the turn signal under the saddle
💡 Visible 100 meters day and night

The turn signal consists of 14 red LEDs (brake light) and 18 yellow LEDs (flashing arrows) with a brightness greater than 100 Lumens . The indicators and brake light for bikes are visible up to 100 meters. 

By keeping the orange flashing light code used by cars, buses, motorcycles and scooters, it is well associated by other road users as a change of direction.
Visible from afar, you are no longer afraid to take the bike at night .
34 LED bulbs of 100 lumens with 5 lighting modes
🖲️ Wireless remote control on the handlebars
Our manual remote control wireless installs on the handlebars in a few seconds . A indicator light tells you what position the device is currently in.

The remote control is equipped with a cr2032 battery (supplied) with an autonomy of more than 200 days.

Discreet handlebar control: 5 x 4 x 1 cm
📣 120 decibels to alert pedestrians
The flashing light beeps when the change of direction is activated. It is enough powerful (120 decibels) to alert passers-by of your changes of direction.

The sound of the turn signal is also a good way to know if the turn signal still has battery and that it always works under your saddle!
Alert pedestrians of your direction changes
👍 Easy to install
Its flexible silicone quick coupler allows you to install in less than 30 seconds the turn signal system on the seat post and the remote control attached to the handlebars.

The smart bracket also allows it to be set up quickly in vertical or horizontal position and adjust the tilt up to 45° .

Our wireless turn signals adapt to all types of saddles!
Vertically adjustable clip
⛑️ Multi-support

Attach your wireless turn signal to the saddle , helmet, backpack or luggage rack  of your bike. The attachment system is very simple thanks to a flexible and resistant rubber membrane.


Only a few seconds to change support and position!


Under the saddle, on the helmet or on the luggage rack (photo of the Beamy to come)
💦 Waterproof
Ride even in rainy weather without stress! Our system is waterproof (waterproof) thanks to the IP2X certification.


Strong and waterproof protection
🔋 Rechargeable by USB
Recharge your system via USB! Simple and fast, from your computer. All cables are provided , no batteries needed.
Recharge in 2 hours with charging indicator
🚴‍♂️ Extremely easy to use

Only 3 buttons for easy handling and to minimize reaction times.
Press, flash, turn!  
5 different lighting modes + alarm
 Technical characteristics :
900mAh optical block Lithium battery

Speaker decibel: 120 decibels

Tail light size: 94 * 32.5 * 26mm

Remote control size: 54 * 42cm

Net Weight: 54g (indicator light + strap)

Control unit: CR2032 battery for approximately 200 days of autonomy

Use time: 4 to 5 hours continuously

Water resistant: IP2x certification

LED light system visible up to 100 meters
Included in the box:
1 LED optical unit (= the turn signal)

1 wireless control box

1 LED optical unit attachment

1 wireless control box attachment

1 micro USB charging cable
Complete kit included in the box
🎁 Free delivery
🛎️ 100% satisfied or refunded!
🇫🇷 Customer service in French 7 days a week


⭐ Rated 4.8 / 5 by cyclists

The Beamy bicycle indicator received a rating of 4.8 / 5 on more than 1,200 orders .

Find out below some reviews with photos left by our users.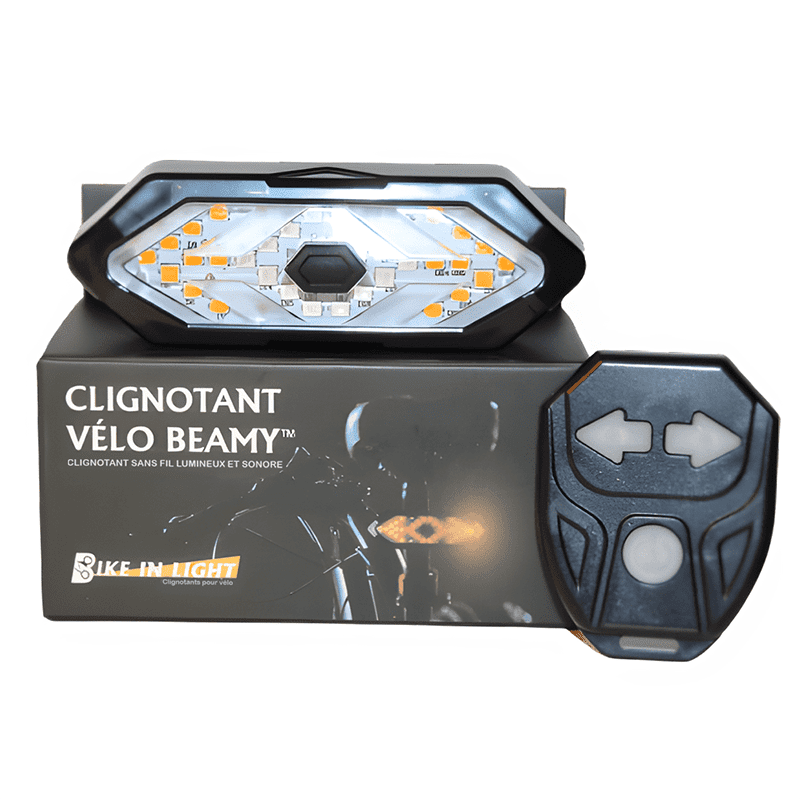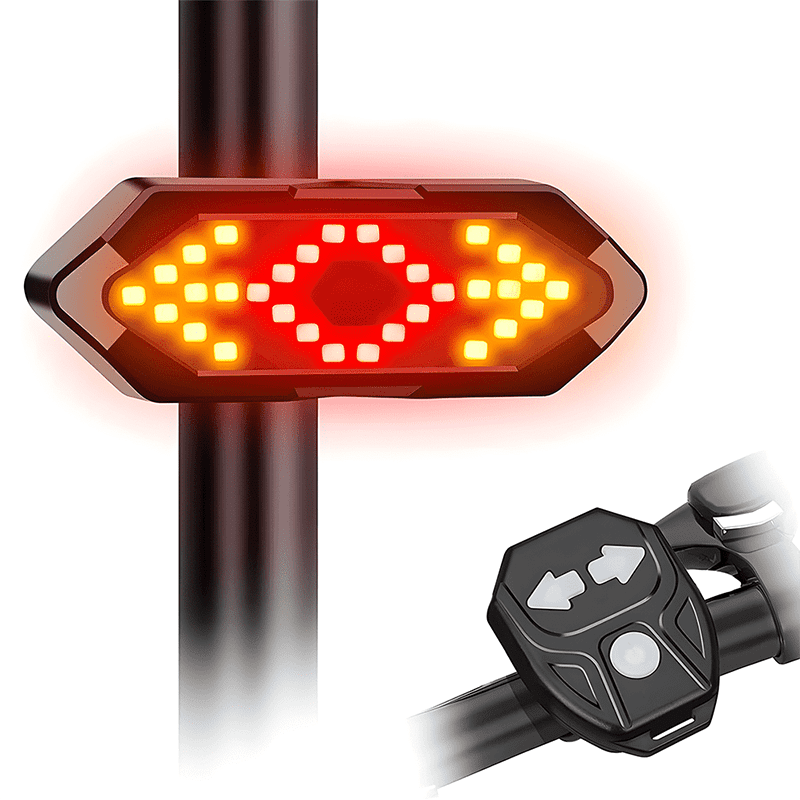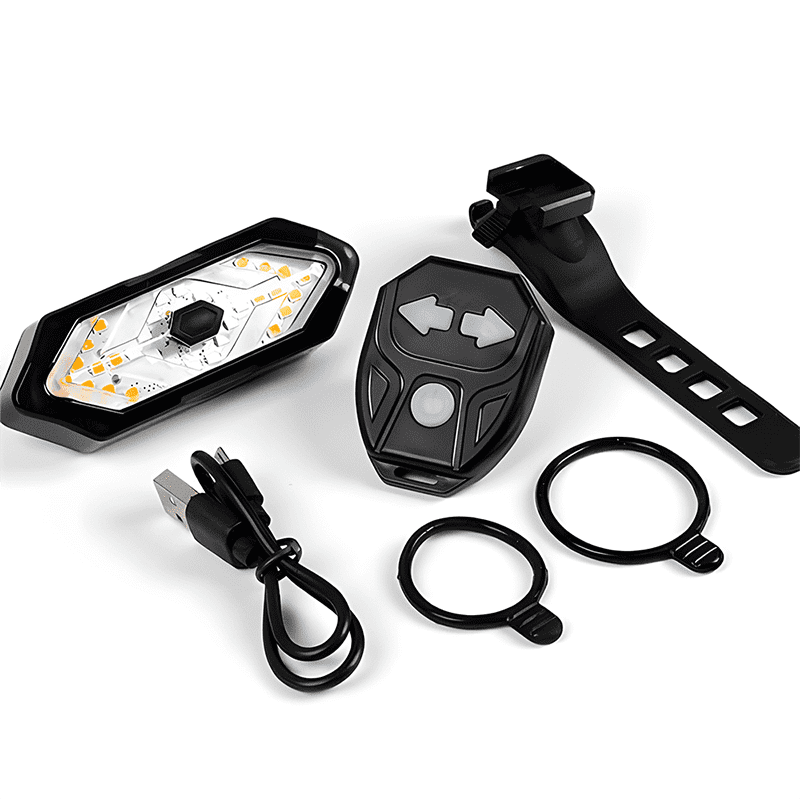 Questions fréquentes
Quelle est l'autonomie du clignotant et de la télécommande ?

Le clignotant a une autonomie de 4-5 heures en utilisation continue (36 heures en veille).

Est-il possible de contrôler 2 clignotants avec une même télécommande ?

Oui, vous avez la possibilité d'appairer 2 clignotants à une même télécommande.
Quelques avis avec photos laissés par nos utilisateurs.